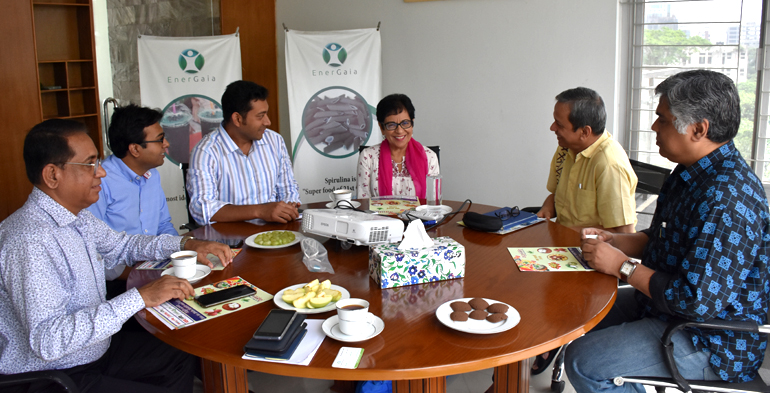 Agrilife24.com:A new initiative will support women farmers in Khulna to produce spirulina, leading to income opportunities, empowerment, and improved family nutrition in rural Bangladesh. The project by EnerGaia, a spirulina production company will be supported by Ms. Neelam Cantolugo, an adjunct professor at Yuba College, USA. Following this an agreement was signed on 12th May 2019 between EnerGaia and Ms. Neelam Cantolugo.
Spirulina, a blue-green algae, is one of the most nutrient-dense foods on the planet rich in protein, minerals, vitamins, and antioxidants. EnerGaia (https://energaia.com/) is a private limited company with years of experience in producing, processing and marketing high quality spirulina. The company was introduced to Bangladesh by Winrock International's USAID Feed the Future Asia Innovative Farmers Activity project.

Ms. Cantolugo became aware of EnerGaia through the Winrock International USAID Asia Farmer-to-Farmer Program, which focuses on youth capacity development and women empowerment in Bangladesh. She subsequently met with EnerGaia Bangladesh, visited their spirulina research lab at Sher-e-Bangla Agricultural University in Dhaka, and learned about EnerGaia's initiative to implement a spirulina farming project for rural women.

As a result, Ms. Cantolugo agreed to provide support to help train thirty women to become spirulina contract farmers. They will receive hands-on training from the EnerGaia Training Center in Batiaghata Upazilla, Khulna District, as well as a system of twenty spirulina production tanks (per person) and other essentials to produce spirulina. EnerGaia will provide technical assistance to the farmers, buy back 80% of the produce, and encourage 20% for family consumption.

The funding agreement was signed at the EnerGaia Bangladesh Banani Office and attended by representatives of EnerGaia (Md. Shounak Tehjib and Mr. Ehsanul Karim) and Winrock International (Md. Samsul Kabir).

EnerGaia has previously won the Blue Economy Challenge from DFAT and the Tech4Farmers Challenge from USAID. EnerGaia's brand name is Skyline Spirulina (https://skylinespirulina.com/th/) and sells fresh spirulina, powder spirulina and value-added products of spirulina worldwide.