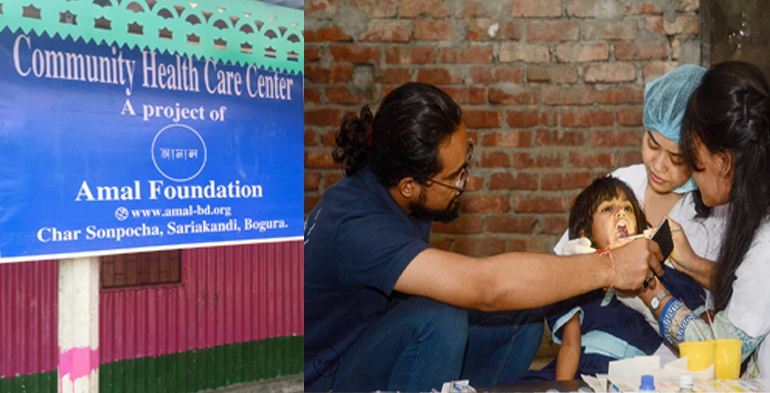 Abul Bashar Meraz, BAU:Shonpocha tract of land surrounded by the water and accretion of beautiful Jamuna river course in Bogura District. Seasonal extremes of water availability, floods and drought are characteristics of Bangladesh. Around 20,000 dweller with more than 8,000 children live here. Although both river water and ground water are, abundantly available, but irrigate crops are scarce.
The tract is isolated from rest of the developed lands, there is no electricity, network towers, and mode of communication, proper sanitation system and mostly lack knowledge regarding importance of health and hygiene and local people travel miles and across the water body for any kind necessities or medical help. It is extremely vulnerable to both erosion and flood hazards.

They are found flood profusely than any other lands. People living in the area with various difficulties like health hazards, damages of crops, breakage of their home steads etc. Resulting in many life loss and instability of life inhabiting there. People in tract, live far away from developing lands and are deprived of many facilities like health, education and employment. During the epidemic seasonal crisis, people are prone to many health hazards. There is no eligible health concerning center or hospital. Many people are dying during catastrophic natural disaster and of water borne diseases and unawareness of hygiene and lack of proper treatments. The socio-economic conditions of people living in tract vary widely between rivers and sometimes even between the upper, middle and lower reaches of the same river.

AMAL is a foundation based in Bangladesh, which works with underprivileged communities. AMAL focuses on empowerment, education, emergency relief and health. AMAL foundation has considered shonpocha tract, to help in development, provide people with basic needs and improve their adverse life style. Poor access to quality health service and high costs threatens the people in the tract, momentum towards health coverage. They have to travel 3 hours for medical treatments which cause ample amount of death and physical damage. There is no medical clinic and pharmaceutical shops. In some village market shops the basic medicines are available rarely. A serious shortage and unequal distribution of qualified health personnel are the reasons for major death rates in this tract. AMAL foundation is built a community health center. It is a little effort to co-ordinate and regulates the development of health initiatives. Primarily focusing on health concerning center, where twice a week basis checkup are given, free medicine distribution, 2 doctors and Women hygiene trainer is accessible for the local people.

Fonder director of AMAL foundation Esrat karim said that, in this health care center underprivileged people get medical facilities by expert doctors. Doctors will visit twice a week and come on emergency calls. Provide hygiene tutorial once a week. Here to provide basic knowledge regarding hygiene importance and prevention measures. Birth control tutorials and menstrual hygiene session also. Child and adult nutrition teachings. Health is an area AMAL has devoted a lot of effort in. Health is wealth as they say. With your support we have been able to provide free health checks and medicine for more than 20,000 people throughout Bangladesh. A lot of people of Char  is suffering due to proper treatment. Our target is to provide them with medical treatments and medicine.

CEO of AMAL foundation Efrit karim said that, We believe in a Bangladesh where we are all equal, regardless of wealth, religious identity and class. We believe in a country where all people have the same opportunities, where all men and women can acquire same privileges. We believe in bringing hope to those in despair.