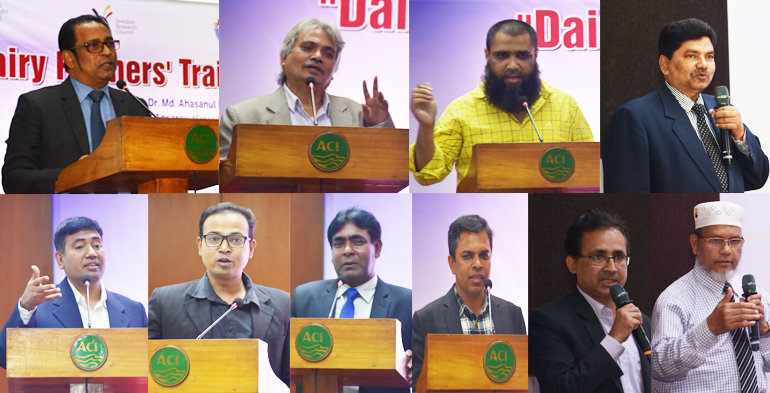 Agrilife24.com:A DAY Long "Dairy Farmers' Training on Bovine Udder Health" was held on Wednesday (6 February) at ACI Center, Tejgaon, Dhaka. This effective training was organized by Udder Health Bangladesh & Chittagong Veterinary and Animal Sciences University, Chittagong, Bangladesh (CVASU) and was supported by ACI Animal Health. Around 200 Dairy farmers were participated this training.
The training was started by the welcome speech by Prof. Dr. Md. Ahasanul Hoque, UHB and CVASU, while Dr. FH Ansarey, Managing Director & CEO, ACI Agri business was the chief guest.

Prof. Dr. Md. Mizanur Rahman, Udder health Bangladesh & CVASU was in the chair while Prof. Dr. Nitish C. Debnath, Coordinator, One Health Bengladesh as a guest of honor in the training. Dr. Nurul Amin, National Consultant, ACI Animal Health ,Dr. Md. Farhad Hossain, CVO, DLS, Dr. KMB Saiful Islam, SAU, Dhaka, Mohammad Imran Hossain, President, BDFA, Mohammad Shaheen Shah, BD, ACI Animal Health were present as special guest and delivered their valuable speech among the dairy farmers.

Md. Shafiqur Rahman, Byre Officer, Central Cattle Breeding Station, Savar, Dhaka, Prof. Dr. Md. Sayedur Rahman, BSMMU & BARA, Dhaka, Dr. Delower Hossain, Lecturer,  UHB and SAU, Dr. Md. Amjad Hossain, General Manager, Marketing, ACI Animal Health also present and delivered their topics.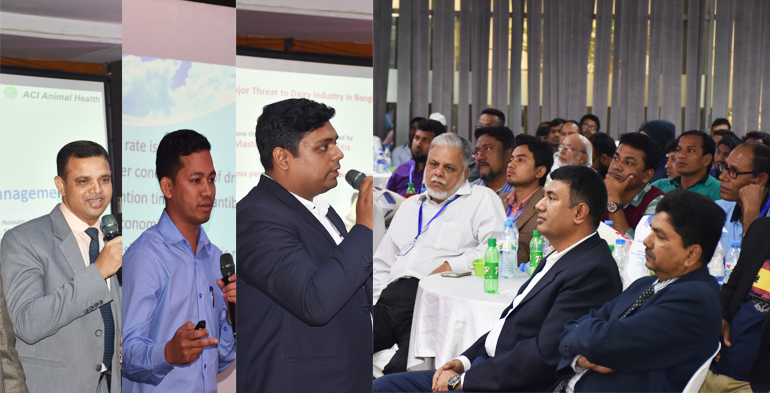 The objectives of the trainig is to train farmers on
1. Awareness building among dairy farmers on antibiotics usage
2. On farms training to control udder infection/mastitis
3. Suitable housing, feeding and breed management to improve udder health
4. Record keeping to manage mastitis
5. Drying off cows and their management

Major parts of the field and laboratory activities have almost been completed. For sharing the findings, experiences and getting feedback from dairy farmers, the organizers arranged this training.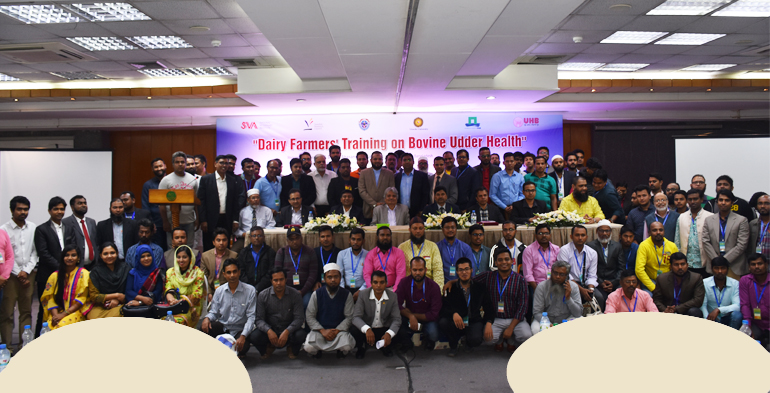 Mastitis is a global problem for the dairy industry. To monitor and control this situation there are national platforms and programs in the developed countries. To establish a similar program in the low-income countries or developing world setting, an udder health control research program was started in Bangladesh with the financial support from the Swedish government (Swedish Research Council-Vetenskapsrådet) and partnerships with the National Veterinary Institute, Sweden, Utrecht University and Wageningen University and Research, the Netherlands and Chittagong Veterinary and Animal Sciences University (CVASU), Bangladesh in 2016.