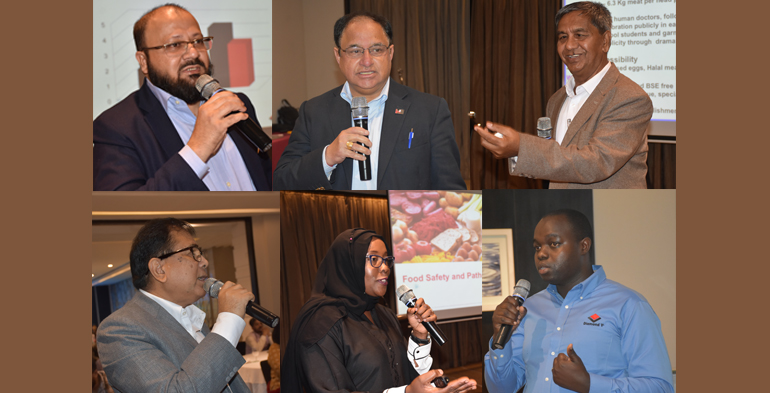 Staff reporter:The entrepreneur faces many challenges in the Poultry industry of the country. In spite of this, there is a lot of opportunity to explore the poultry business in home & abroad. In the current context, the country has made a lot of progress in producing safe poultry meat, egg, processed & further processed chicken as well as value added chicken items. Like many poultry entrepreneurs of the country, the Eon Group has always kept themselves in these activities.
Considering these issues Eon Group of Industries & Diamond V. USA organized a technical seminar on "Improving Animal Health & Profitability using Diamond V Technologies"on Saturday' 16 February at Kuakata Hall, Le Meridien in Dhaka.

The Seminar was Started with the welcome speech by Mr. Momin Ud Dowlah, Group Chairman & Managing Director, Eon Group of Industries. He thanked all the guests and expressed his heartfelt gratitude on behalf of the company for coming to the seminar.

Then started the technical talks of the seminar. The country's eminent poultry consultant Prof. Dr.Priya Mohan Das presented a paper on "Challenges and opportunities of poultry industry in Bangladesh". The world is a business center. Whatever we do, do it for profit said P.M. Das. He addressed a clear concept about the current poultry scenario in Bangladesh at a glance. side by side he also discussed the opportunities & Challenges in commercial poultry sector

After that Ms. Faith Wakibia, Technical service manager of Diamond V discussed about "Diamond V Original XPCTM & AviCareTM. She briefed these will be worked functional metabolites of fermentation that improve poultry health, immunity and lifetime performance".
 
Then Dr. Jarred Serem, Manager-Animal Health and Food Safety of Diamond V said about "SelenoSource AF3000TM–which is highly bio-available, natural & organic selenium source for poultry health, reproduction and lifetime production.

Both speakers discussed their product description, ingredient composition, analysis, feeding direction etc. They hope these products will be much helpful to produce safe poultry meat & egg in Bangladesh. At the end of discussion, a question and answering session was held. Dr. Tilak Raj Dhiman, senior Consultant, South Asia of of Diamond V conducted the session.

The seminar was conducted by Mr. Hasan Mahmud, Chief Operating Officer, Animal Agricultural Business, Eon Group of Industries along with Mr.Mahmud Alam, DGM. Finally Mr. Dowlah expressed his gratitude to the guests those who participated the seminar and make it successful. He thinks that everybody from the country's poultry industry entrepreneurs will benefit from this kind of technical seminar.

Approximately 90 persons attended the seminar, including the nutritionist, high officials, entrepreneur, senior executives, consultant, invited guest of the country's leading company of Poultry Industries. At the end of the seminar, all participated in a dinner in a sincere environment.