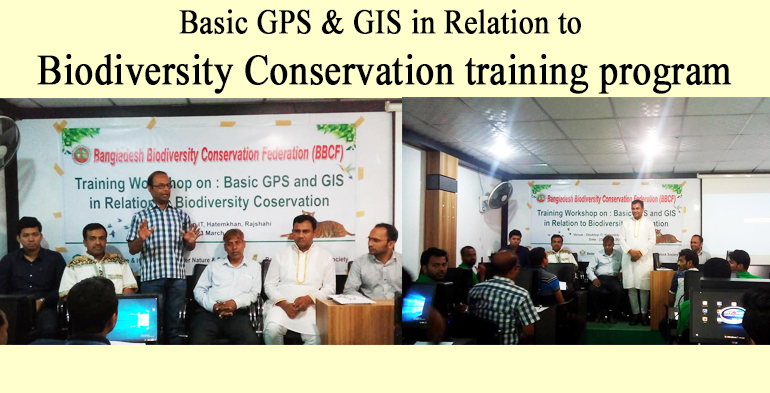 agrilife24.com:Basic GPS & GIS in Relation to Biodiversity Conservation training program was held in Rajshahi on 23rd March at Desktop It, Hatem khan, Rajshahi. BANGLADESH BIODIVERSITY CONSERVATION FEDERATION (BBCF) organized the day-long training program and Sponsored by Save the nature & Life, Better Nature & Society, Bangladesh Livestock Society (BLS). One hundred and five individual organization coalesce to form a federation BBCF. BBCF works for the betterment of future generation by keeping the ecology balanced.
Professor Dr. Md. Jalal Uddin Sarder, Dept. of Veterinary and Animal Sciences, University of Rajshahi and President BBCF inaugurated the occasion as a chief guest. Dr. Md. Hemayatul Islam Arif, Dept of Veterinary and Animal Sciences, University of Rajshahi and General Secretary, Bangladesh Livestock Society spoke about the importance of GPS.

Dr. Nasir Uddin wildlife rescue and GPS expert trained about 32 participants of BBCF local partner from Rajshahi and Natore districts. Dr. Delower Hossain, Lecturer of Shre-e Bangla Agricultural University, Dhaka also conduct another session for the participant. Md. Mizanur Rahman, General Secretary, BBCF spoked about BBCF. Rtn. Khaza Khaled Liger, President, Rotary club of Rajshahi and Director of the desktop it, Md. Enamul Haque, Treasurer, BLS, Md Jahangir Kabir, Wildlife and conservation unit, Rajshahi division also present as a special guest.