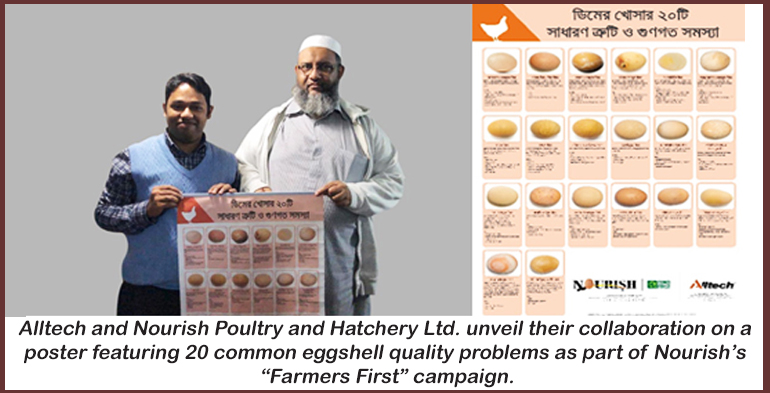 [DHAKA, Bangladesh] – Alltech and Nourish Poultry and Hatchery Ltd. have collaborated to support farmer development as part of Nourish's "Farmers First" campaign, which aims to help educate layer farmers to create more sustainable businesses. As part of the campaign, the creative teams from both companies have designed an exclusive poster of 20 common eggshell quality problems, with descriptions translated for local languages, which will be distributed to more than 3,000 farmers.
The poultry industry in Bangladesh has grown significantly in the last two decades, and the feed industry and breeding companies have reached a world-class standard. Unfortunately, farmer development has fallen behind. In the last few years, profitability has shrunk for all stakeholders, but farmers have been hit hardest.  

The best solution for farmers is to improve efficiency and reduce cost. Poor eggshell quality is an enormous hidden cost to the egg producer, with 2–5 percent of eggs lost due to shells that are too thin and therefore crack or break to the extent that they are not suitable for collection. For a farmer with 1,000 layers, this represents a loss up to 1,00000 taka in a 52-week production cycle.

In this period of rapid development, Nourish consistently focuses on farmer development and profitability. Since its inception, Nourish has ensured customer satisfaction by providing high-quality DOC, feed and customer service. With Alltech's expertise in animal health and nutrition, their joint effort to support farmer development makes them a winning team. The eggshell quality poster will be displayed on-farm, giving farmers a resource to more easily identify eggshell quality problems and a way to contact experts in order to find solutions. Together, Alltech and Nourish are working toward more sustainable and profitable poultry farming.