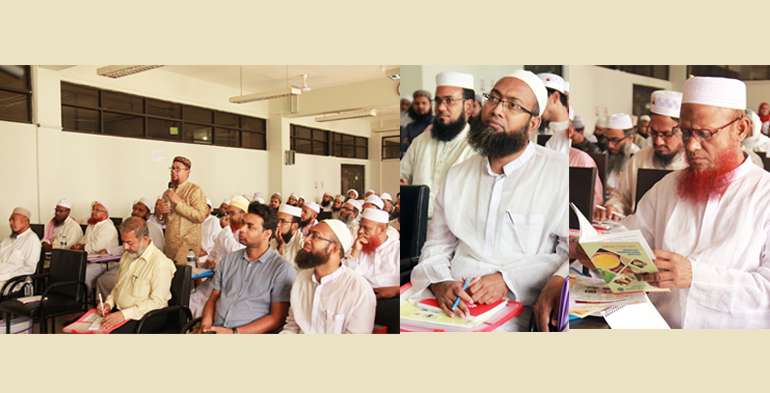 Agrilife24.com desk:"Imams can play significant role in disseminating agricultural innovations. They should be inspired to learn about modern technology of agriculture so that they can educate and engage the community to avail the benefits of agricultural innovations for sustainable food security", said Mr. Kazi Nurul Islam, Secretary & Director General (Additional Charge) of Islamic Foundation while attending a capacity building held at the Imam Training Academy (ITA) Auditorium, Dhaka on April 24, 2019.
Framing Future Bangladesh (FFB) with technical assistant of Islamic Foundation organized the day long Training of Trainers (ToT) titled "Agricultural Innovation and Applications of Agri-biotechnology for Sustainable Food Security in Bangladesh" for Imams and Imam trainers and officials of Imam Training Academy.

The program aimed to strengthen capacity of religious leaders for information sharing on agriculture, food and nutrition through the applications of modern agricultural technology in particular applications of agri-biotechnology for sustainable food security in Bangladesh. A total of 80 participants including Imams, ITA Trainers, Scientists, officials of Bangladesh Rice Research Institute (BRRI), Bangladesh Agriculture Research Institute (BARI), Cornell Alliance for Science and Farming Future Bangladesh attended the program.

Participants learned the status and prospect of agricultural innovations, effectiveness and access to innovation to address the challenges and how effectively they can disseminate evidence based information for social awareness on the acceptance of safer and nutritious food. The program also focused on religious views specially aligned with the Islamic references. In addition, they learned skills and best practices for science communication and community engagement for ensuring sustainable food security in Bangladesh.

Mr. Kazi Nurul Islam addressed the training as a great opportunity for Imams to enhance their knowledge and perception on modern science and innovations regarding food, agriculture and nutrition. Mr. Muhammad Jalal Ahmed, Director, ITA, said that religious leaders are the most powerful and reliable influencers for social mobilization.

Among others Mr. Muhammed Rafiq-ul Islam, Director, Department of Planning, Islamic Foundation, Md. Alamgir Hayder, Deputy Director (Admin), ITA, Mr. Arif Hossain, CEO & Executive Director of Farming Future Bangladesh were present in the inaugural session of the training. Mr. Malik Sayed Haider, Trainer, ITA, Islamic Foundation. Dr. AKM Quamruzzaman, Senior Scientific Officer, Mr. Abdul Momin, Senior Communication Officer, Bangladesh Rice Research Institute also participated as the resource personnel for the ToT program.

FFB is a comprehensive communications initiative to help improve awareness on modern agricultural innovations including crop biotechnology in Bangladesh. Based in Dhaka, it operates under the auspices of Cornell Alliance for Science of the Cornell University with support from the Bill & Melinda Gates Foundation.