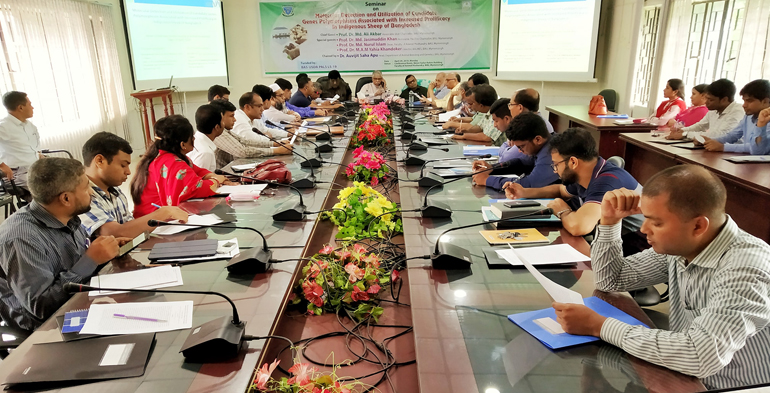 Din Mohammed Dinu: Seminar on "Molecular Detection and Utilization of Candidate Genes Polymorphisms Associated with Increased prolificacy in Indigenous Sheep of Bangladesh" was held on Monday (29 April) in Animal Husbandry Faculty Conference Hall of Bangladesh Agricultural University (BAU) Mymensingh.
Organized by Faculty of Animal Husbandry and funded by BAS-USDA. The inaugural session of the seminar BAU Pro Vice-chancellor Professor Dr. Md. Jasimuddin khan was chief guest while Professor Dr. Md. Nurul Islam Dean, Faculty of Animal Husbandry, Professor Dr. M.A.M. Yahia Khandoker, Director BAURES were present as special guests.

Professor Dr. Auvijit Saha Apu, head Department of Animal Breeding and Genetics ,BAU presided over the session.

Welcome Address delivered by the Professor Dr. Md. Munir Hossain, Co Investigator of the project and Presentation and project findings delivered by Principal Investigator of the project Professor Dr. Mohammad Shamsul Alam Bhuiyan on the occasion. Students, Teachers, Researchers, Private Entrepreneur's extension workers were participated at the seminar.