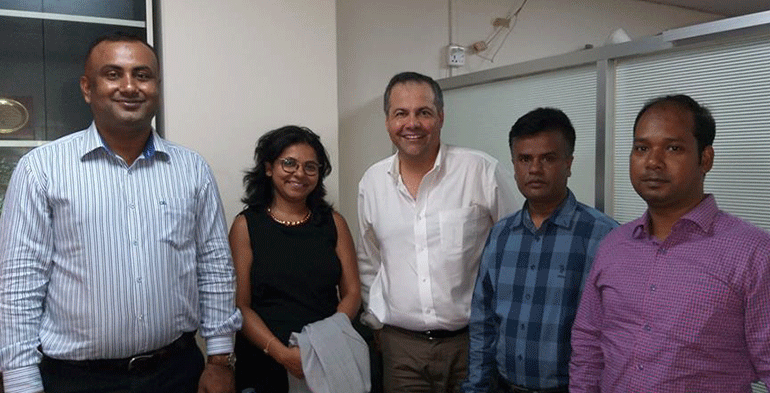 Agrilife24.com:BIOSEUTICA's representative Dr. Priyanka Dutta-Passecker, Ph.D, Sales and Business Development Director and Dr. Juan M. Maya (DVM), Sales & Marketing Manager agreed to work with "MHK AGRO" for sales their product in Bangladesh Market. Now "MHK AGRO" is the exclusive distributor of Bioseutica BV, The Netherland. During their short visit in Bangladesh meet with us for exchange sharing about history of Lysozyme and it's application in Animal Health Sector's.
A Brief Introduction of Bioseutica Group:
Bioseutica is a world leading ingredient company whose natural proteins and enzymes are innovative and selected as the first choice for food, feed and pharma sectors. Bioseutica aims to become a world market leader catalysing responsible development of natural high quality proteins and enzymes. Bioseutica is committed to scientific research leading to innovative products and proprietary technologies.

Bioseutica focuses on the global supply of the highest quality bioactive proteins, including egg derived proteins, lysozyme, avidin and ovotransferrin, pancreatic enzymes and specialty products, food ingredients and feed additives, designed for antibiotic free livestock, such as, aqua, poultry and swine and pets. Bioseutica's manufacturing processes are built on high-end, cutting-edge proprietary technology and allow us to produce ingredients of highest purities in our manufacturing facilities in Canada and Europe.

A Brief Introduction of MHK AGRO:
"MHK AGRO" started its independent journey from Dhaka since December 2017 with a commitment to supply world class animal feed additives. "MHK AGRO" has always been committed offering to our valued customers for supply an innovative range of products Like Entegard (Lysozyme Based), designed to overcome the challenges of livestock RWA (Raised Without Antibiotics). Administered via feed or drinking water Entegard® helps to maintain a healthy gut flora and gut barrier function by sustaining the structural integrity of the intestinal wall through its direct and natural antibacterial activity. As a full service feed additives supplier to the livestock and poultry industries, now "MHK AGRO" offered specialized Nutritional Emulsifier (Hydrolip) to our valued customers. We have assembled as enthusiastic team of professional people to serve our customers from abroad to production; our peoples are friendly, efficient and Professional.