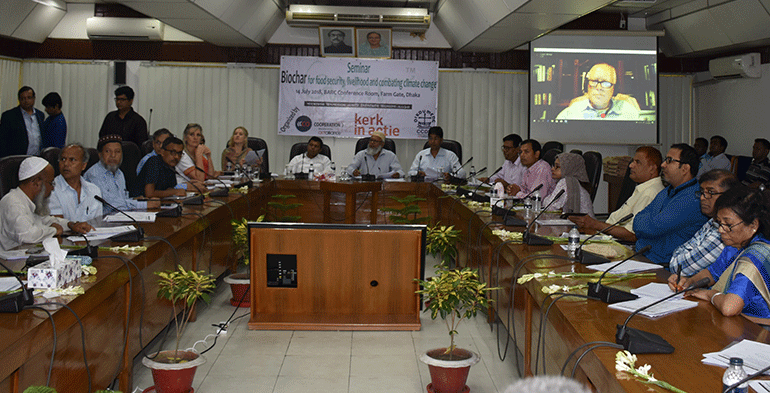 Agrilife24.com:Christian Commission for Development in Bangladesh (CCDB), one of the national development organizations in Bangladesh, has organized a Half-day Seminar on Biochar for Food Security, Livelihoods and Combating Climate Change at BARC Conference Hall, Farm Gate, Dhaka on Saturday 14 July.
The seminar is being organized under an innovative and people centered project entitled Improving Livelihood, Food Security, and Reducing Carbon Emission through Biochar Initiative supported by Dutch organization ICCO Cooperation and Kerk in Actie. The project aims at enhancing livelihood, and food security at the household level, and reduces carbon emission. The project has been promoting an eco-friendly gasifier cook stove that produced Biochar which has been used to improve soil fertility globally for years.

The project has been receiving technical guidance from a number of universities including Bangladesh Agriculture University, Mymensing, Sher-E-Bangla Agriculture University, Dhaka, Bangabandhu Sheikh Mujibur Rahman Agriculture University, Gazipur, Haji Danesh Science and Technology University, Dinajpur, and other national agricultural research institutions like BARI, SRDI, BJRI, WRC in Bangladesh.

The researchers from these academic and research institutes have conducted a good number of research studies on Biochar, its use and effect in soil and crop production. Some of these scientific papers will be presented in the Seminar in presence of dignified agricultural scientist of Bangladesh and some of the international experts.

In this Seminar there were present Mr. Joyanta Adhikari, Executive Director as Session Chairman; Mr. Mahbubul Islam, Development Policy Advisor & Team Leader, Biochar Project, CCDB, brief presentation on Biochar; Ms Tessa Schmelzer, Country Representative, ICCO Cooperation; Ms Salima Jahan, Joint Secretary, Renewable Energy, SREDA, Ministry of Power, Energy & Mineral Resources, Government of Bangladesh; Mr. Peter de Vries, Thematic Expert, Water Management, Netherlands Embassy; Dr. Md. Kabir Ikramul Haque, Executive Chairman, BARC; Dr. Md. Abdus Satter, Member Director, BARC as the Session Chairman; Dr. Alok Kumar Paul, Professor, Dept. of Soil Science, SAU; Dr. Md. Mizanur Rahman, Professor, Soil Science, BSMRAU; Md. Abul Kalam Azad, Head-Program, KiA/ICCO; Dr. Craig Meisner, Senior Fellow, IFPRI; Ivory Hackett-Evans, Emergency Response Manager, ICCO Cooperation. Skype with Prof. Dr. Julien P. Winter, Canada, Mentor Bangladesh Biochar Initiative; vote of thanks, Mr. Imran Kibria, Head-PME, CCDB.