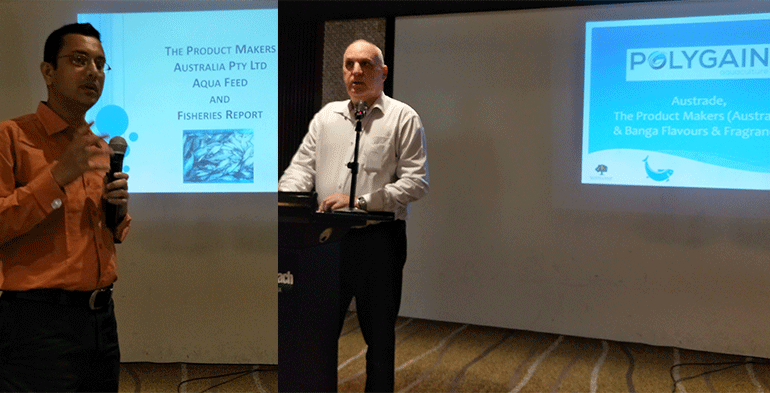 Polyphenol based additive has applications in shrimp, fisheries, poultry, horses, cattle and pets.
Agrilife24.com,desk:Australian company, The Product Makers (TPM) natural feed additives is generating significant interest from Bangladeshi shrimp and fisheries. TPM recently conducted trials of their polyphenol based natural feed additive Polygain in partnership with Chittagong Veterinary and Animal Sciences University, amongst shrimp and fisheries in Bangladesh.
The trials were conducted by Dr. SK. Ahmad-Al-Nahid, Head, Department of Fisheries, Chittagong Veterinary and Animal Sciences University.
 
Dr Nahid & his team of experts carried out extensive dose response trials on three prominent aqua species of Bangladesh. They include Pangus (Pangasius hypophthalmus), Tilapia (Oreochromis niloticus) and Prawn (Macrobrachium rosenbergii).
 
TPM's polyphenol based feed additive is derived from the sugarcane plant Saccharum officinarum.  Importantly, TPM have patented the extraction process. Some of the key benefits for the shrimp and fisheries usage of TPM's animal feed additives include;
 
1. Improvement in feed conversion ratio–current feed additives yield 1kg shrimp for 1.6kg standard feed, as opposed to TPM's feed additive that yields 1kg shrimp for 1.15 kg feed additive.
2. TPM's feed additives, resulted in larger shrimp and fish. Dr Nahids trials have identified the important addition rate of the feed additives for each of the trailed species.  The optimum addition rate was determined after carrying out extensive dose response trials.
3. Usage of TPM's feed additive also provides the shrimp and fish farmers a clean natural label that improves the export potential and value of exports.
 
The trials were presented by Dr Nahid & his team of experts at a recent seminar titled Australian Fish & Feed Additive Seminar recently organised in Dhaka, Bangladesh by The Product Makers' in partnership with The Australian Trade & Investment Commission, Australian Government & TPM's local partner Banga Flavours & Fragrance.  More than 35 leading animal feed pellet manufactures, shrimp and fish farmers from Bangladesh attended the seminar. Dr Nahid and Shane Mitchell, CEO, The Product Makers presented the scientific findings of the trials and supporting data to the pellet makers, shrimp and fish farmers in Bangladesh
 
Speaking about the trials, Dr. SK. Ahmad-Al-Nahid, Head, Department of Fisheries, Chittagong Veterinary and Animal Sciences University said that "The aim of the University trials, were to confirm the suitability of natural polyphenol product in commercial fish and prawn pellets used at low doses. The industry has been looking for a natural non antibiotic based growth improver and this has the potential to expand the value and volume of exports"
 
According to Shane Mitchell, CEO, The Product Makers, "These are exciting times ahead for the aquaculture feed industry. TPM are ready to support the stock feed industry and the farmers to assist them in meeting the global need for protein sources including fish and shrimp.  Demand for fish and shrimp is growing at an extremely high rate".  
 
According to Mark Morley, Trade Commissioner for South Asia, Australian Trade & Investment Commission, Australian Government, "Australia has the world's third largest fishing zone. Australia has a reputation as a supplier of safe, high quality onshore and offshore aquaculture, produced using environmentally sustainable practices in wild-catch fishing and aquaculture. Australia offers the latest technology and processes, sophisticated management and modern catching regimes, world-class harvest and post-harvest technologies and innovations".
 
"The Bangladeshi fisheries and aquaculture industry can engage with Australia to increase the output and value of the fisheries and aquaculture industry and The Australian Trade & Investment Commission can support the Bangladeshi fisheries and aquaculture industry in facilitating linkages with the Australian fisheries and aquaculture technology and solution providers", said Mark Morley.
 
The outcome of the trials represents significant potential for the shrimp and fisheries sector in Bangladesh, to enhance the output and expand exports of the shrimp and fish in this important sector. TPM has now commenced delivery of commercial orders of their polyphenol based feed additive in Bangladesh.  
 
TPM is an Australian company that uses science to produce world class food flavourings. TPM launched bioactives based products 5 years ago to use natural ingredients to improve human and stock feeds. TPM's products are patented, natural, bioavailable polyphenols sourced from sugarcane extract. For more information on TPM and their products please visit www.tpm.com.au or contact Mae Bowen at  This email address is being protected from spambots. You need JavaScript enabled to view it.  
 
For more information on partnering with Australian organisations; sourcing Australian products and merchandise and for accessing Australian expertise and technologies, please contact:Minhaz Chowdhury, Country Manager, Australian Trade & Investment Commission based in Dhaka at This email address is being protected from spambots. You need JavaScript enabled to view it. or+88029889210