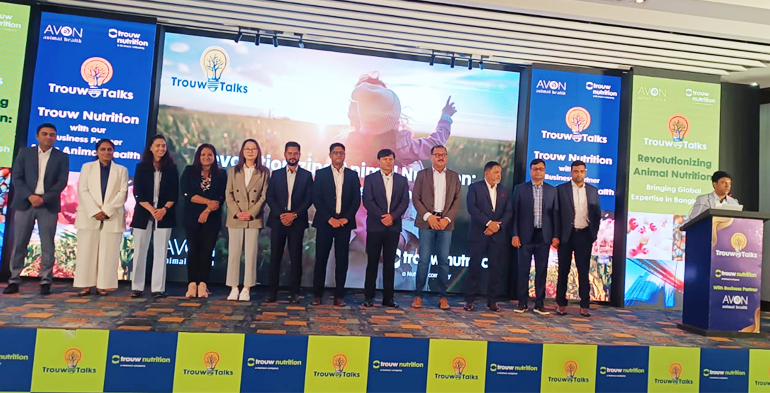 Staff Correspondent, Agrilife24.com: "Revolutionizing Animal Nutrition: Bringing Global Expertise in Bangladesh" was held in Dhaka. Trouw Nutrition South Asia with their business partner Avon Animal Health were jointly organized this interactive session about the innovations & technologies revolutionizing animal nutrition industry.
The event was held at Radisson Blu Water Garden Hotel, Dhaka (Utshab Hall) on Saturday, 23 September evening. The event was started with the introducing speech by Dr. Amzad Hossain, Sales Manager, Trouw Nutrition (Bangladesh) & Md. Ziaur Rahman, head of Sales Avon Animal Health.
AKM Sayeed Sarwar, CEO, Avon Animal Health gave a welcome speech on the occasion. He expressed his sincere thanks and gratitude to all those who came and participated in this timely event.
In the seminar, experts from Trouw Nutrition presented technical information relevant to the Poultry industry in the country. Dr. Saurabh Shekhar, GM- Trouw Nutrition South Asia & MD-Nutreco South Asia was briefed about Trouw Nutrition the Global Leader in Animal Nutrition.
Among the experts from Trouw Nutrition "The Next Generation of Trace Minerals Nutrition" presented byDr. In-Sun Yu, Global Program Manager, Trace Minerals, Asia, Nutreco Asia. "Decoding Feed-to-Food Safety with Trouw" Dr Stuti Baruah, Program Manager Feed Safety Trouw Nutrition south Asia.
The closing speech was delivered by Executive Vice President of Avon Animal Health Md. Mahabub Hassan. The entire program was conducted by Dr. Chandani Parihar, Marketing Director, Nutreco South Asia.
Nearly 220 stakeholders who came to the seminar expressed their gratitude for being able to participate in such a seminar organized in the context of the current situation. They said that if the research results reach the field level with proper information, the industry of the country will be successful in increasing their production capacity.