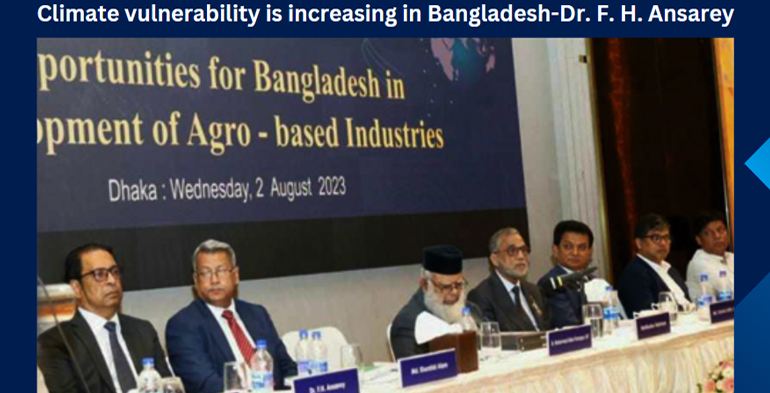 Agrilife24.com: Climate vulnerability is increasing in Bangladesh. Resulted farmers losing productivity due to production losses. Climate vulnerability must be adopted to solve these issues. Climate sensitivity impacted not only crops, but also other agricultural areas such as fruits, spices, orchards, cattle, dairy, poultry and aqua.
President of ACI ACI Agribusinesses Dr. F. H. Ansarey was addressed these in a round table meeting titled "Climate Adaptations: Opportunities for Bangladesh in Development Agro-based Industries " at Hotel Sheraton in Dhaka today (2 August).
Additional Secretary of the Ministry of Agriculture Mr.Ruhul Amin Talukder presented the key note paper while Dr. Muhammad Abdur Razzaq Agriculture Minister was present as chief guest. The event was organized by the International Chamber of Commerce (ICC) in collaboration with Food and Agriculture Organization and Standard Chartered Bank.
Dr. F. H. Ansarey was mentioned in Bangladesh, half of the population lives in villages, and agriculture is their main source of income. According to my understanding, our farmers practice agriculture mainly for two reasons: self-employment and producing food for family and other purposes. In practice farmers having very minimum alternative particularly in vulnerable climatic conditions.
Bangladesh is one of the countries most affected by climate change, and its agriculture sector is particularly vulnerable to the impacts of Increasing Temperatures.
High temperature
• Can lead to reduced crop yields
• Weaken the immune system of fish and shrimp
• Big variation in day & night temperature may causes unfilled grain in rice
• Reduce feed intake, egg quality, increase mortality rate in Poultry
• Reduce meat and milk quality, leading to reduced conception rates, increased embryo mortality in animal.
He said, The overall impact of temperature is reduced productivity can lead to food shortages and higher food prices, affecting food security. And the crisis will even more high as the frequency of vulnerability is high in our country. These vulnerabilities can be solved through research and innovation. Smart breeding tools can help to accelerate innovation in the face of climate risk. Smart breeding techniques like Rapid Generation Advance, Marker-assisted selection (MAS), Genomic selection, Artificial insemination (AI) and Embryo transfer, high-throughput phenotyping etc will reduce breeding cycle several years and expedite climate smart variety development.
Furthermore, the government should fund research in both the public and private sectors to address this climate vulnerability. The country's vibrant private sector is bringing various worldwide technologies and introducing them in Bangladesh to help our farmers. Working in hot and humid conditions for long periods of time, is not inspiring for the younger farmers. Mechanical interventions in crops and animal agriculture may attract younger farmers for comfort and productivity. To reduce the forthcoming climate risk, we must encourage smart agricultural practices across crops, cattle, dairy, poultry and aquaculture Dr. Ansarey added.
Dr. F. H. Ansarey was highlighted that Every year, over a million of fresh graduates coming out from different educational institutions. Based on the current situation, neither the government nor the private sector can create the required jobs for everyone. The agricultural business provides a return within 3–6 months, which is not achievable in other businesses.
Considering the attractiveness of the agribusinesses and its short-term return potential, we need to make them entrepreneurs. To make them entrepreneurs, training and Funding are essential to do so Agriculture Entrepreneur Foundations (AEF) can be formed he added.
Dr. F. H. Ansarey strongly believe that our local and international banks and development agencies will step forward to build private sector capacity for climate adaptations, activities and also financing these young educated workforces.
Building Post-harvest capacity like storing, transportations and cold chain can reduce substantially agri products losses from climate vulnerable situations. Agri-processing also can help to expand agri-product shelf life and save substantial wastage.

Dr. F. H. Ansarey expressed hope that climate smart farming is used to increase productivity and reduce the cost of production in the entire agricultural value chain. The goal is to use less and produce more by protecting the environment.