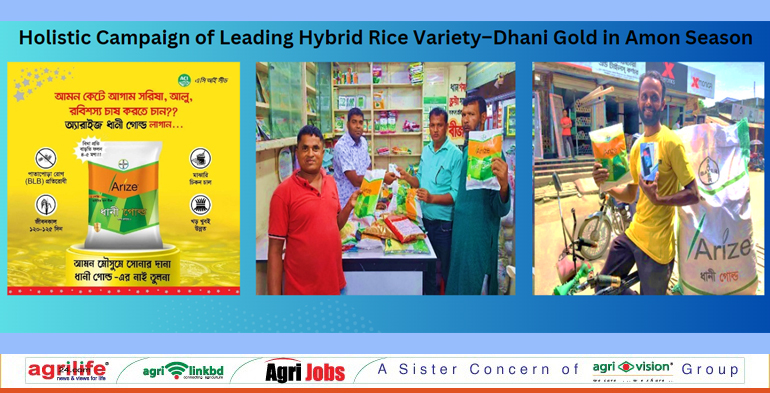 Agrilife24.com: ACI Seed rently has conducted Rural Activation Program for "Dhani Gold", including Road Show, Haat-Bazar based Campaign, Retailers Contact, Farmers' Spot Meeting, Game Show, Gift for the farmers in the key area for hybrid amon rice.
The program covered Mymensingh, Netrokona, Sherpur, Jamalpur, Bogura, Rajshahi, Rangpur, Kurigram, Nilphamari, Dinajpur, Thakurgaon, Panchagarh and Kushtia. Bayer Crop Science (Principal of Dhani Gold) has given outstanding support to implement the program. The promotional team of Bayer Crop Science and the sales team of ACI Seed actively organized the programs.
The objective of the program was to create awareness in the market and drive the audiences to the distribution points through engagement. The representatives of the Business focused on the variety's blast tolerance, no lodging problem, the yield advantage and profitability. The participating farmers and retailers were very excited to know the characteristics and performance of the variety. They are now committed to cultivating the variety in this season.
"Dhani Gold", is the leading hybrid rice variety in Amon Season and it is one of the leading products of ACI Seed. The Business has a special focus on the variety, considering its market potentiality. The farmers are getting very satisfactory results by cultivating Dhani Gold over a couple of years. Dhani Gold is a medium-cylinder rice variety. The harvesting period of the variety is 125-130 days. Besides, Dhani Gold is a BLB resistance variety.