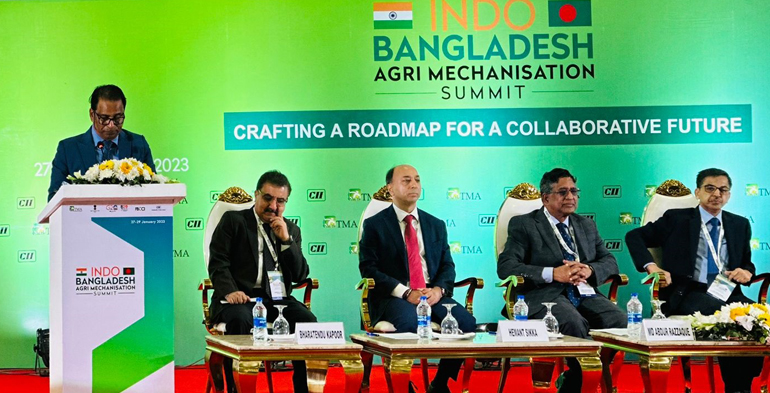 Capital Correspondent:The benefits of farm mechanization solution are already perceived by the farmer, entrepreneurs and new job seekers. To accelerate farm mechanization solutions in all sectors, current subsidy program should continue smoothly and can be broaden.There is a huge opportunity to expand farm mechanization solutions across multiple crops. To do so, the Department of Agriculture Extension and private companies can work hand in hand.
President of ACI Agribusinesses Dr. F H Ansarey addressed in his speech as a special guest at the event "Indo-Bangladesh Agri-Mechanization Summit" held at the International Convention City Bashundhara in the capital today. Agriculture Minister Dr. Muhammad Abdur Razzaque, MP was present as the chief guest of the summit.

Under the leadership of Agriculture Minister, the public and private sectors of Bangladesh are working hand in hand, hence the massive transformation of agriculture in Bangladesh. Due to his initiative, a broad subsidy program for farm mechanization is now in place, and farmers are greatly benefiting out of this program added Dr. Ansarey.

He addressed, Agriculture is an extremely important sector in Bangladesh, providing food for 170 million people. Agriculture is a tedious job where 37% of our labor force is involved. This is a decreasing trend, as it was 67% just 20 years back. Due to this labor shortage, there could be a potential food crisis. We have avoided the crisis through farm mechanization. The farm mechanization is happening due to the intervention of the dynamic private sector and the government's support and policies. Still, there is room for mechanical intervention in field crops, vegetables, potatoes, animal agriculture, post-harvesting and processing.

Dr. Ansarey, expressed sincere thanks to the Indian High Commissioner to Bangladesh Mr. Pranay Kumar Verma & TMA President Mr. Hemant Sikka and the organizers to arrange such beautiful and very important in the context of Bangladesh.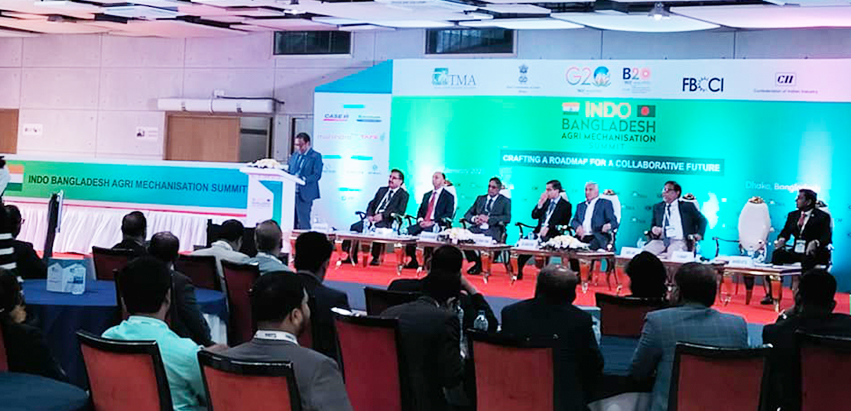 Thanking the Indian agricultural machinery manufacturers, Dr. F H Ansarey said, Indian manufacturer for the development of high-quality tractors for the Bangladesh market, the supply of high-quality spare parts and the training of our local mechanics and engineers to provide after-sales services. Indian manufacturer have introduced tractors with an appropriate turning radius and torque to plough in a small field, even 10 decimals, which is very appropriate for Bangladesh.

Indian tractors are durable, easy to repair, and have a wonderful, user-friendly design. They can be used for multiple purposes, including haulage. It is our great pride that, for rice, wheat and maize, we have achieved significant penetration of farm mechanization in Bangladesh. Now, the penetration in cultivation and irrigation is over 95% and in harvesting is 10% added Dr. Ansarey.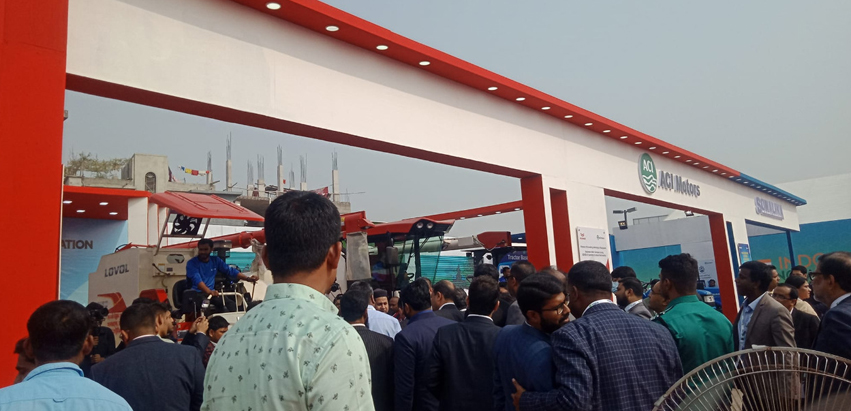 ACI Motors Ltd. started its journey 17 years back with the tractors the "Sonalika" brand from International Tractors Limited. We are proud of our tractor. We are market leader in tractor in Bangladesh. Our supplier had given us huge support in product development, after-sales service, and training. Now we are introducing tractor-operated implements for multiple crops like maize harvester, forage harvester, fertilizer spreader, square baler, potato planter, and potato harvester. We are also trying to capture several opportunities by introducing agricultural drones, vertical gardens, milking machines and aquaculture.
The exhibition is being held from 27 January to 29 January 2023 at the International Convention City Bashundhara (ICCB) from 10 am to 6 pm.