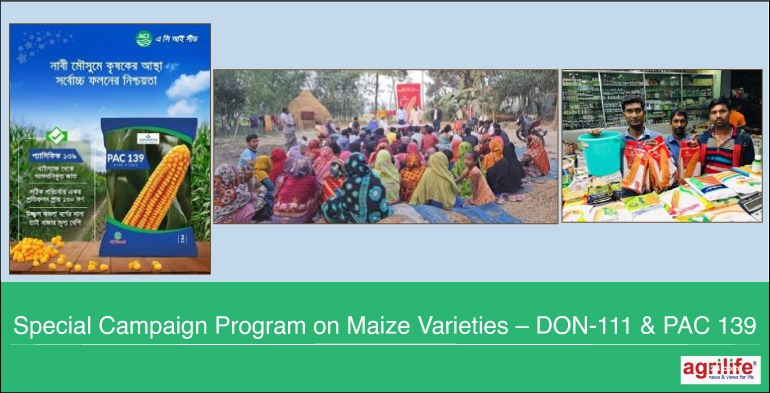 Agrilife24.com:Maize is one of the most focused crops of ACI Seed. The Business has taken an initiative to arrange a special campaign program at key customer points in potential areas. ACI Seed has commenced the campaign with farmer meetings, retailers meeting, meeting with DAE concerns, result demonstrations, group campaigns, haat-Bazar campaigns, and the usage of different promotional materials at retail points. "DON-111" and "PAC 139" are the focused maize varieties of the Business in Rabi Season.
ACI Seed is giving a special focus on the varieties considering the market potentiality. The average yield of the varieties is 140-150 Mond per Acre. The grain color is yellow-orange and the grain type is bold flint. The husk cover is fairly closed. The shelling percentage is 84-86%. Disease and pest resistance are high. There is a good standability and water-logging tolerance of the variety. Chuadanga, Rangpur, Dinajpur and Thakurgaon regions conducted the campaign program on "DON-111" & "PAC 139" at different places like Faridpur, Rajbari, Kushtia, Chuadanga, Kurigram, Nilphamari, Thakurgaon and Lalmonirhat.

The Portfolio Manager, Sales Manager, Regional Sales Manager, Area Sales Manager and Marketing Officers participated in the program. There was a remarkable response among the retailers and farmers. Therefore, the Business expects to sell the targeted volume in those areas.